About Hill Country Chorus
---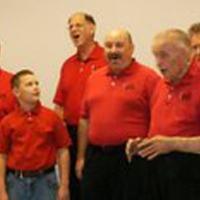 The Hill Country Chorus offers an opportunity for singers of all ages to meet regularly to enjoy each other's company, sing together for the pure enjoyment of creating a joyful sound and hone their skills so they may spread the spirit of harmony through performance and community service in quartet or as a chorus. We currently have over 30 singers of all walks of life and from all over the Central Texas Area.
---
Rehearsal
We practice every Tuesday evening from 7:00-8:30 PM at the First Protestant Church of New Braunfels. The church is located at 172 W. Coll Street in New Braunfels, Texas.
---
Performance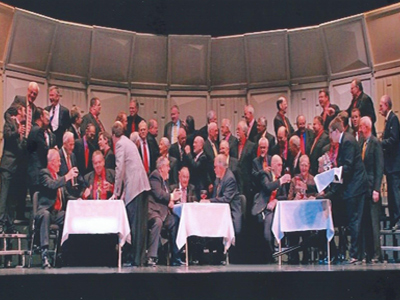 The main purpose of The Hill Country Chorus is to serve our community by singing at annual shows, a number of community events, nursing homes, senior centers, service clubs, annual competitions and supporting charitable causes. We raise money by performing Singing Valentines around Valentines Day, producing our annual show and providing entertainment at private events. If you're looking for a unique musical experience to liven up your event, please check out our Hire Us section.
---
Education
In addition to sharing our music with others, another great passion of ours is learning more about the art of acapella singing. Vocal instruction is a regular part of chorus rehearsals, and a very important component of the chorus experience. A couple of times a year, we will get coaching from a visiting master in the art of barbershop, where we learn many tricks of the trade.
---
Competition
Hill Country Chorus occassionally participates in the Barbershop Harmony's annual Southwestern District chorus competition which is held in a major city within our five state district. Competitions are a special time for quartets and choruses from our region to come together to perform for each other, and get constructive feedback from a panel of judges. The winners of the District Contest in both quartet and chorus categories travel to the International Contest held each year at the Barbershop Harmony Society's Annual Convention. The International Convention is held over the 4th of July week in a different city each year.
---
Quartets
Most choruses have a number of members who form their own vocal quartets in addition to singing with the chorus. Click here to see our quartet section to learn more about them.
---
Community Outreach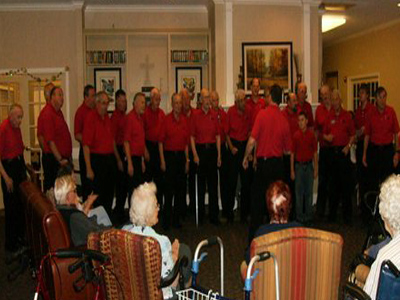 A major part of who we are is to be good citizens of our community, which includes New Braunfels, Canyon Lake, Bulverde, Seguin and other towns in the area. We love to do free performances for retirement homes, hospitals, charitable organizations and community activities. We also provide financial and entertainment support to an important local charity with whom we are affiliated.
---
Affiliation
Hill Country Chorus is a chapter of the Society for the Preservation and Encouragement of Barber Shop Quartet Singing in America, also known as Barbershop Harmony Society (or BHS or "The Society.") It is a non-profit organization of approximately 25,000 members in choruses and quartets worldwide with Headquarters in Nashville, Tennessee. BHS and its chapters in the U.S. are non-profit corporations qualified as exempt charitable organizations under Section 501(c)(3) of the U.S. Internal Revenue Code.
The Barbershop Harmony Society values and respects people of all genders, identities, orientations and expressions. Throughout these materials, the general terms "men and women" should be understood to encompass and include all people, without intent to exclude anyone.